What happened to Monday Night Golf?
I was wrong. The Match was fine for what it was. But citing inflated TV numbers as a sign that a new era in the sport is dawning? Well friends, we've been here before.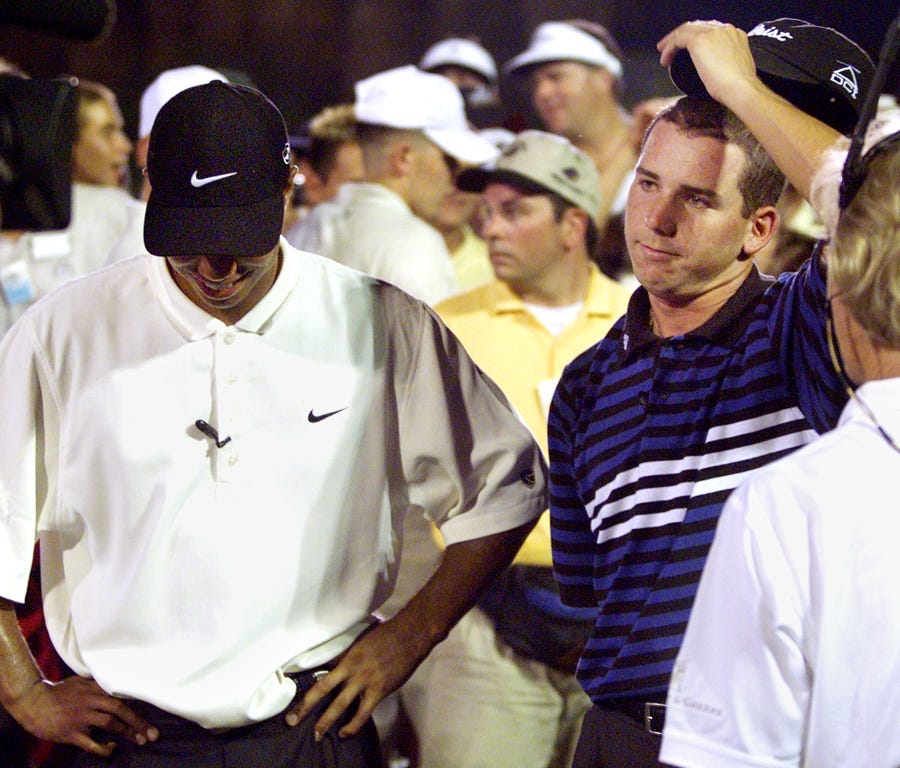 I had a bad opinion on the Internet.
Don't be confused. In my view, The Match has sucked before, sucked on Sunday, and will continue to suck in the future in whatever form it takes from here. You can't simulate real golf that matters in these situations, no matter how much money you put on the table. The banter is often so contrived and controlled that you might as well have let Steinberg script it himself. I remain steadfast in my belief that time & history organically create great golf events, not goofy doofus mid-handicap quarterbacks or Capital One's bankroll.
But I'm also not the intended audience. I watched golf before, watched mostly all of this golf, and will continue to watch golf in the future. I like the John Deere Classic. Trophee Hassan II is appointment viewing. I was distraught about the cancellation of the Magical Kenya Open. My entire self-worth is wrapped around taking a thing that everyone else likes, but then liking it in a weirder, edgier way so as to seem cool. I have no personality at all, nor any discernable skill. I live to stand in a circle of seven dudes at an overpriced Fulton Market bar and blurt out "Hey, uhhhh, remember Zeke Markshausen?"
Anyway, all of us just needed something to do on Sunday, and this was an chance for golf to step in and curry some goodwill. I'm not one for glad-humping sporting moments of unity after tragedy, national scandal, or some blend of the two. But we're desparate, and for a moment on Sunday it felt like everyone was watching four very talented dorks play golf in together. We don't have to overstate the importance with some jingoistic trope about how GOLF HEALS AMERICA, but hell, we all needed something to do.
That's why I was wrong. The Match was fine for exactly what it was: a sport-like substance that everyone needed as a distraction — whether that be from the news cycle, temptations to leave the house, your in-laws, whatever. Tiger, Phil, two dorky and moderately unsavory quarterbacks playing golf, in a monsoon, while raising money for charity. It was fine. I'm glad it happened. If you spend as much time as I do calling on golf to become more progressive and expose the game to new audiences, you can't bitch when the wildly successful entry-point product that has everyone talking about golf doesn't suit your hipster palate. Dropping some teenager with the Phoenix Suns' record in his Twitter name directly into third-round coverage of Adrian Otaegui & Markus Kinhult at the KLM Open does not work as a conversion tactic. Everything has its role, and this version of The Match played its just fine.
But now we're going to have to talk about TV ratings.
BUHHHHHHHHHHHHHHHHHHHHHHHHHH.
Yes, The Match had great TV ratings. If you're making broad extrapolations for what the future of golf looks like off that, well, we've made this mistake before.
There's no way to argue that Sunday's match wasn't a massive ratings success for Turner. The foursome hauled in an average of 5.8 million viewers across the balance of the broadcast, peaking at around 6.3 million sometime after Brady's blind-squirrel hole out. That's a massive number for golf, no question. The previous cable viewership record for golf was held by first-round coverage of the 2010 Masters when Tiger returned to the course after the Escalade incident. The Match beat that, and Turner seems to be frothing at the mouth to let everyone know it.
Much of that is a deserved victory lap. Turner's received plenty of praise for Inside The NBA over the years, and brought some of that feel to The Match broadcast in a much needed way. The cart cameras, live mics, & excessive use of TopTracer would've made for an excellent broadcast alone. Chuck's levity was needed, and Justin Thomas as the on-course reporter was a great call. Hell, just getting the thing on air amid a global pandemic with a monsoon coming down would've been enough of a feat. Instead, we all got to watch CBS & NBC get Stephen Ames'd.
All that's to say: What's next? The reflex on Twitter & among Monday's talking head programs seemed to be for less traditional PGA Tour events, more Match-like substances. Set aside the fact that we're all so sport-deprived that the post-Pete Weber PBA could have this sort of reach right now. The conditions were ripe for this to be a prevailing sentiment in golf. The sport's most loyal fans are frustrated with Jay Monahan's love of 72-hole events and the lifeless CBS broadcast crew, and casuals largely have no interest in watching the 3M Open.
So, could more things that look like The Match be a magic pill for golf? Sure, it could be.
But they've already tried it, and it didn't work before.
The Match needs novelty & scarcity to be successful. Just ask Monday Night Golf.
The year is 2000. Bighorn Golf Club in Palm Desert, California. Tiger Woods is at the pinnacle of the sport, coming off a battle with Bob May at Valhalla to take the third leg of what would become known as the Tiger Slam. He's set to take on a young, mercurial Sergio Garcia, the 20-year-old Spaniard who had dueled Tiger to the finish one year earlier at the 1999 PGA Championship at Medinah. Prime-time, under the lights, two young titans that were set to define the next 25 years of the sport just as Arnie & Jack had done for a previous generation.
This was Monday Night Golf.
In hopes of riding the Tiger wave into primetime, ABC had launched the series one year earlier with the 1999 Showdown at Sherwood. Tiger took on a still-elite David Duval in a one-on-one match play format for $1 million at a time when that still felt like a big winner's check in professional golf. It was a massive success. Tiger controlled most of the match semi-comfortably, but the event was a massive win for ABC. A 6.9 rating on a Monday Night in early August, a great number for the summer programming window that far exceeded initial expectations. The number just exceeded final round coverage of Payne Stewart's dramatic U.S. Open win at Pinehurst a couple months earlier (6.8) and would equal Tiger & Sergio's duel down the stretch at Medinah a couple of weeks later.
So, here we are, one year later. ABC's made a venue change, Sergio has been cast in a role as Tiger's rival for the next two decades, and Cat is at the peak of the sport. With heavy promotion leading up, Tiger & Sergio give us a wild duel in the desert night. Garcia comes out on top, and ABC brings home an absurd 7.6 rating.
To everyone that watched that night, it felt like Monday Night Golf would be here to stay. At the time, I was a 9-year-old Sergio Garcia superfan— I had become addicted to the sport through Sherwood & Bighorn, remembering those events in much more detail than Stewart's PGA finish. In fact, I can probably point to that night as the night I really fell in love with the sport. I assumed I'd grow old watching a primetime, under-the-lights showdown for millions of dollars between Tiger & Sergio every summer.
As one does after such as success, ABC doubled down — but could never again capture the initial magic of the first two Monday Night Golf duels. Formats changed, different players were worked in — Annika! Jack! Lee Trevino! Hank Kuehne! — but ratings steadily declined over the years.
1999 Showdown at Sherwood (Woods & Duval) : 6.1

2000 Battle at Bighorn (Woods & Garcia): 7.6

2001 Battle at Bighorn (Woods/Annika vs. Duval/Karrie Webb): 6.1

2002 Battle at Bighorn (Woods/Nicklaus vs. Garcia/Trevino): 5.1

2003 Battle at the Bridges (Woods/Els vs. Garcia/Mickleson): 4.6

2004 Battle at the Bridges (Woods/Kuehne vs. Mickelson/Daly): 3.6

2005 Battle at the Bridges (Woods/Daly vs. Goosen/Mickelson): 3.0
Woof.
Monday Night Golf ended the opposite of what it started as, a lifeless go-through-the-motions event that no one had any interest in on any side. Sure, yes, those ratings numbers still exceed many — or most! — PGA Tour final rounds. But taking up a network slot on Monday night at 9pm requires a higher bar to clear than an August Sunday afternoon. ABC whacked it after the 2005 season due to low ratings, and at the time it seemed few players had much of an interest in a trip out to California in August for a Monday hit-and-giggle anyway.
So, yes: The Match was a success. It drew a significant TV audience in an era far more fractionalized broadcast era than 20 years ago. Turner's broadcast can and should influence the week-in, week-out product we see from NBC, CBS, and others. Tournament formats need revamping — there are far too many 72-hole, stroke play events in professional golf that seem monotonous. The PGA Tour has dragged behind in addressing those problems when viewed in contrast to what we saw Sunday, or, hell, even the European Tour.
But be careful drawing broad conclusions on what The Match means for the sport over the long haul, and be wary of the bedfellows those asks might create. Vice's Aaron Gordon made a keen observation over the weekend, albeit about the evolution of our workday and the future of office space. We tend to overstate what will last when it comesto big changes, and undersell the smaller ones with more lasting impact. The Match is not going to blow up golf. Drawing a decent rating from a captive audience isn't an indictment of the Valspar Championship's existence. It is not, and should not, hasten the downfall of the PGA Tour or strengthen the case for the odious Premier Golf League. One-off match play golf has seen these heights before on a second go-around before, without being artificially buoyed by a sport-starved audience stuck at home due to COVID-19.
We've been here before. Long live Bighorn, long live Monday Night Golf. Long live whatever format gets the general public interested in golf and can usher in marginal lasting change to the core of the sport. No matter how stupid or trivial or excruciatingly awful I find it to be when the content mills get ahold of some C-minus Tom Brady banter, golf needs that.